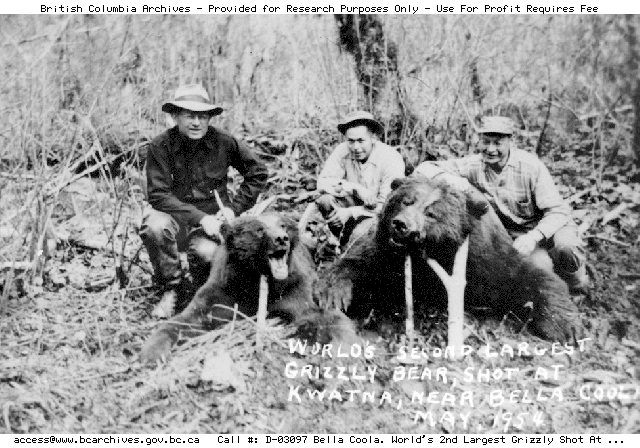 The gentleman on the left may be an "Oklahoma multimillionaire." The gentleman on the right is Clayton Mack (1910-1993), a Bella Coola Indian, who was a hunting and fishing guide for 53 years, but mainly a guide for grizzly bear hunters. This may be one of the few photographic records of his career. As he reports (p. 60) in his Grizzlies & White Guys: The Stories of Clayton Mack (1993. Vancouver, British Columbia: Harbour Publishing):
I used to have two good photo albums too. I lost one of them in Vancouver in hospital; I lost the other one in Williams Lake Hospital. People there at them hospitals, they fight to see it. "Can I borrow this?" they ask. "Okay," I say. Then I never see them again. Too bad they had to steal them.
The photo above does not identify the "white guy" on the left, but the following from Clayton Mack's book may be applicable (p. 52-53):
Once I got a guide licence, I could hire anybody I want. The year after that, around May another bunch came in for a grizzly bear spring hunt. From Oklahoma. A grizzly bear nearly get me that first time. He hit me on the foot, tried to grab me. This was up Kwatna. We shot that grizzly bear on the tideflat, and he went up the mountain. One of the hunters was a millionaire, oil guy, Oklahoma oilman. This was the guy who shot the grizzly bear. I went and followed that bear's track and caught up to him and he charged us. So I shot, hit his front leg; kind of slow him down but he came, came again.

The hunter said, "Don't shoot. Let me finish him off."

"Okay, go ahead, but shoot quick," I said.

He start shooting and the bear keep coming. The bear went down. I got a stick and poked him in the lip, poked that grizzly bear in the mouth. He bite that stick, chop it in half like an axe. And he still breathing. Every time he turn his head I can see the steam, like, coming out of his nose.

"Quick, shoot him, finish him off. Shoot right in the neck behind the head," I said.

Bang! He shot him.

"I think he's dead," I said. "I think he's finished now." And I kick that bear in the ass end, kick it with my gumboots. He turned around and slapped me right on the toe, broke my toe. Then he fell down dead. Tough animal that grizzly bear.

That Oklahoma multimillionaire came back nine years in a row with me. He died of sugar diabetes. He paid me good. More than what he should have paid me. He would come in with big boats, big yachts. I got him a grizzly bear every year too. I don't know what he did with all them grizzly bear skins. He was the first guy to get a Boone and Crockett bear, biggest bear in the world.